| | |
| --- | --- |
| Andes again | 2012.06.14 Thursday |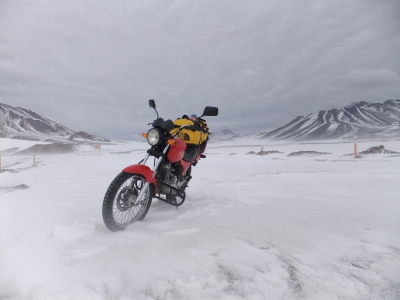 On the road of south America again. Start from BuenosAires Argentina, crossed the continent to Chile and heading north to Bolivia now.
Here it is a story of recent some days.
It was not a piece of cake to go through the pass SanFrancisco 4748m, only across a few car a day in this winter season ,which is a part of Andes range, covered with snow and ice, Coke freeze in a minute , with my little 150cc Chinese pony, as he cough often and refused to run due to low oxigen. But the Japanese Gaucho kicked his ass and feed him a onion in his airfilter box so as to run more than walking speed. Yes, onion! its a legendary tequnic for high altitude among Argentine riders. All your knowledge and experience will be required, and you must be a sort of fool! It was a kind of adventure in some meanings. So fun!!